The satisfaction we get from a sauna is so relaxing that it shouldn't just be an occasional experience at a spa or a health club. Wouldn't you agree? As a matter of fact, sauna treatments should be accessible anytime from the comfort of your house. Of course, the best place in a home to make that happen is in the bathroom. But is it possible to convert a shower into a sauna?
You can convert a shower into a sauna, and you can do it yourself. You'll need to pick a suitable bathroom, get a steam generator, make the necessary electrical adjustments, and test run the entire installation to ensure that it's working. You'll also need to waterproof the shower stall somehow.
We'll take a closer look at exactly how to set up a sauna in your bathroom and what you'll need for the process. We'll also look at how to use your shower as a temporary sauna. But first, let's review what a sauna actually is.
What Is a Sauna?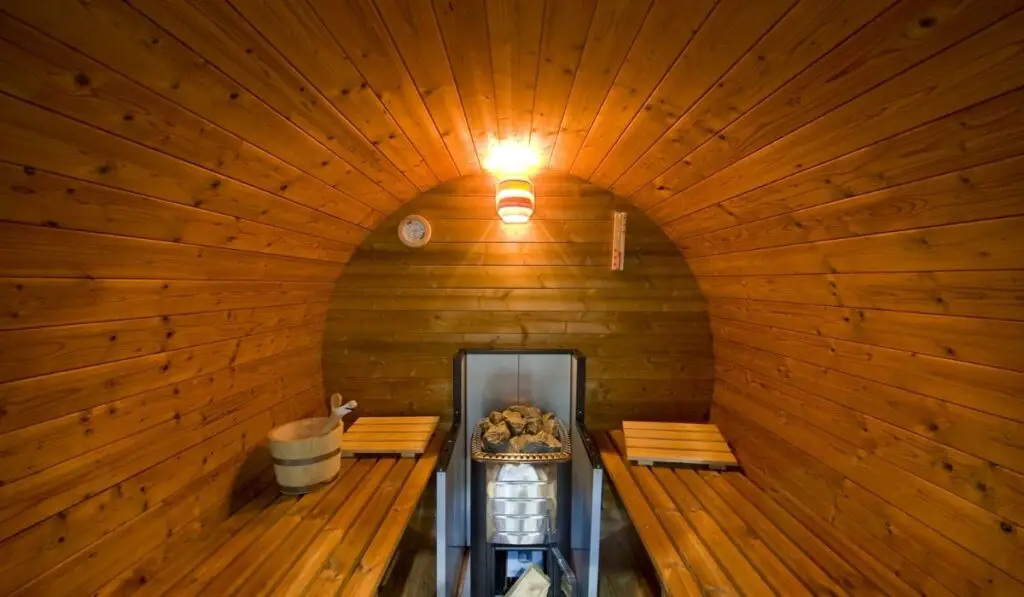 A sauna can be described as an enclosed space or room usually heated to somewhere between 180 °F and 195 °F. A sauna uses dry and wet heat to provide users with heat sessions for different therapeutic purposes.
Apart from relaxing the muscles, which is one of the most significant benefits of using a sauna, it can also be effective in relieving pain, treating asthma, improving cardiovascular health, increasing blood circulation, etc.

There are different types of heat sources in saunas, including gas, wood, and electric.
Can You Use a Shower as a Sauna?
You can quickly turn your shower into a temporary sauna, and below are the steps you can take to do this on your own:
Increase the Temperature of Your Water Heater: To produce steam when you turn on the hot water, you should increase the temperature to about 150 °F.
Pick a Bathroom: You should go for the smallest bathroom in your home since it's easier to trap heat in a smaller place. Then, ensure you clean that bathroom well to avoid any dirt that can irritate you during the heat session.
Prepare the BathRoom: The next thing you want to do is prepare the shower room so that the room can maintain a high temperature when steam is being released. To achieve this, you should ensure that every entry to the bathroom is shut, windows are covered, and every crack or leaky area is blocked with towels or tape to insulate the room.
Block Your Bathtub Drain and Turn On the Hot Water: Once the room is ready, you should block the drain in your bathtub, and then you can turn on the hot water to fall directly into the bathtub for about 20 mins — or until your tub is half full. Then you can add some scented candles or a similar item to help you relax more.

If you don't have a bathtub, you can simply let the shower run. Point the head down and away from you so that the water doesn't hit you.
Allow the Steam to Fill the Room: With all these steps done, you have successfully recreated a sauna in your bathroom. All that's left to do is sit down somewhere comfortable, relax, and allow the steam to fill the room. You can add an aluminum bucket filled with ice and cover it with a cloth to make the steam fill the space more quickly.
How to Convert a Shower Into a Sauna
Converting your regular shower to a sauna isn't that difficult. With the right amount of investment and work, the conversion process shouldn't take you more than two days to complete.
Let's walk through the steps needed to convert a shower to a sauna.
Get A Steam Generator: The first thing you'll need to do is purchase and install a steam generator. This equipment heats up the electricity and boils the water in saunas. It needs to be connected directly to the waterline.

When choosing your generator, it's important to consider the size and the time you expect to use it. Some steam generator units are installed outside the shower wall, while some are waterproof and can be installed inside the stall.

Examples of generators you should consider are the ZONEMEL 4 Liters Sauna Steamer (on Amazon) and the TOREAD Portable Folding Steam Sauna (on Amazon).
Electrical Set-up: You should shut down both the electrical and water supplies in your home before making any electrical connections. Then you can begin by drilling a hole through the shower wall to pass the wiring through, connect the electrical pieces, and arrange the piping for the generator.

If you're not familiar with this type of electrical work, you may need to hire a professional for this part.

Then, you can install the shower head for easy accessibility when you want to run hot water and then make the necessary connections between the panel and the generator.
Test Run: When the installation is done, all that's left is to seal the gaps in the shower with caulk and give a little time to allow the steam generator to dry up before finally running a test to ensure the set-up is running smoothly.