When it comes to in-sauna audio, Bluetooth speakers can be a great choice. They offer the best of wireless audio, rugged performance, and sound quality. Regarding the best option for your sauna, it's clear there are quite a few choices. A big part of finding the best product means sourcing speakers that are going to last.
The best Bluetooth speakers for use in a sauna are:
– VIDALUX 60W Bluetooth Speaker
– Superior Sauna Bluetooth System
– Oceanic High-Temperature Bluetooth Speakers
– Pyle Marine Bluetooth Speakers
– Pyle Marine Grade Flush SpeakersTurtlebox Bluetooth Speaker
– Bose Soundlink Micro
We have found the best Bluetooth speakers that will stand up to the extreme conditions of your sauna. Some are from sauna-specific companies producing products for this particular need. Others are the best substitutes, given the availability of certain specialty sauna speakers. Below you will find Bluetooth audio devices that can add the wireless edge to your in-home sauna.
What Makes a Good Bluetooth Sauna Speaker?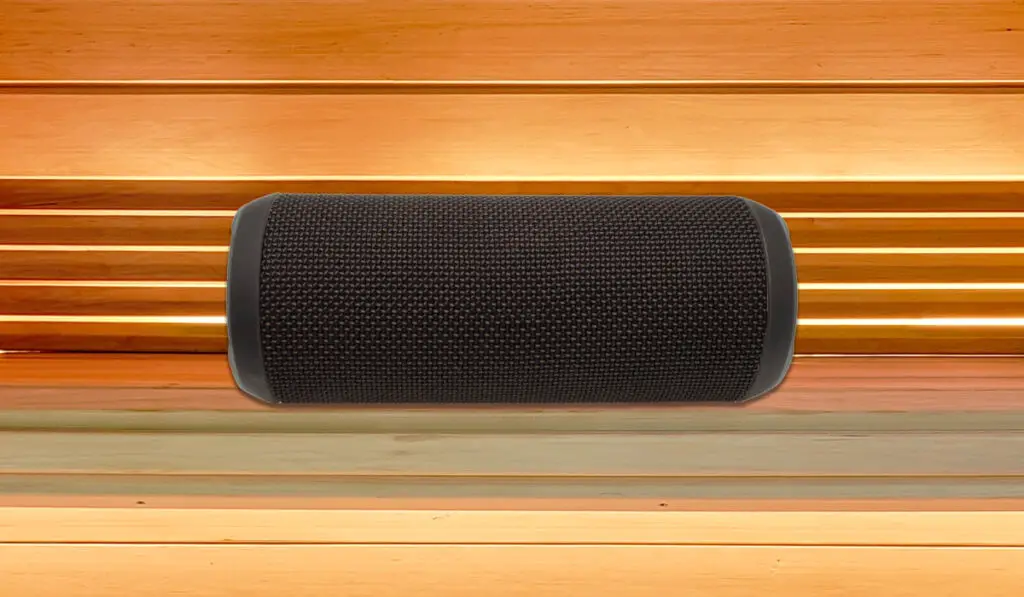 When it comes to using any electronic product in a sauna environment, there are some significant hurdles. Of course, safety is always the main concern. The last thing you want to deal with is shorted wires in faulty electronics.
When it comes to using Bluetooth speakers in your sauna, you need to make sure they can stand up against the harsh environment. Some of the things to look out for include whether they are water-proofed, weather-proofed, or heat resistant.
Your sauna gets hot, upward of 195°F. For most electronics, this temperature will be a death sentence. Most speaker manufacturers don't envision you using their products in such an environment. That is why you should always be mindful of the speakers you decide on.
Try and find sauna companies that produce speakers. A hurdle here is that most of these companies are in Europe. While this is not a huge obstacle, it might mean heavy shipping fees and waiting time. Another option you may explore is a marine-grade speaker. While not the same as a sauna, the environment on a boat can be a close analogy. It usually gets hot and humid, much like a sauna.
If you still can't find something you are happy with and are looking for Bluetooth compatibility, you might think about a Bluetooth speaker. It might be confusing to find a durable product as industry terms like waterproof or weatherproof can vary depending on the manufacturer. 
Make sure to look out for International protection ratings. Known as IP, this rating will give you a good idea of how impervious to water your speaker is. Any quality product that uses waterproof on the packaging will usually carry an IP rating.
VIDALUX 60W Bluetooth Speaker
If you are looking for luxury ceiling speakers for your sauna, you are going to find a lot to love in these Vidalux Speakers from their website. While they can work swimmingly in a shower, they are perfect for a steamy sauna.
The speakers feature a frameless design featuring an "acoustic boosting shelf" for the sub frequencies which means the bass frequencies sound especially high-quality. They come moisture protected and come with a 6-meter style for easy fitting. 
Superior Sauna Bluetooth System
The Bluecube (also on their website) is a perfect hideaway solution for Bluetooth connectivity in your sauna. Superior Sauna is a trusted name in sauna-specific products, and this speaker system is no exception. This design can be installed out of sight and connects to included speakers to provide Bluetooth connectivity to your sauna or steam room.
Easily connect your smartphone or other media device to the system and stream your favorite music or podcasts. There is also an included remote control that you can safely use inside the sauna without bringing in your phone.
Oceanic High-Temperature Bluetooth Speakers
Oceanic has long been a trusted name in Europe for sauna products. Their line of High-Temperature Speakers which can be found on their site as well are a great addition to any sauna. Some of the most important features of them are their IP66 rating, their protection against temperatures up to 250 degrees Fahrenheit, and their balanced cone system for premier audio quality.
This speaker system also comes with a Bluetooth audio receiver. This small device can easily connect to any system and easily hide out of sight, much like the Bluecube. With just a little bit of setup, you can enjoy Bluetooth connectivity and audio in the comfort of your steamy sauna.
Pyle Marine Bluetooth Speakers
There aren't too many brands out on the market making great products when it comes to sauna-specific speakers. Fortunately, there is another industry that you can lean on when trying to source durable Bluetooth speakers.
Marine-grade speakers are a close second when it comes to finding speakers for your sauna. Manufacturers like Pyle have been creating quality speakers for boats for years. Their 6.5" Marine Bluetooth Speakers (on Amazon) can make for a perfect ceiling speaker option.
They feature IPX4 protection from water and can stand up to harsh weather conditions with their durable materials. These speakers can stand up against some harsh conditions, so they should be just fine in a sauna setting.
They also come packed with Bluetooth 4.2 connectivity. This means you can easily stream from your smartphone or another device, although, it's best to keep your phone out of the sauna.
Pyle Marine Grade Flush Speakers
Another great addition from Pyle, these 6.5" Flush Speakers (on Amazon) are perfect if you are trying for a sleek aesthetic. Much like the other marine option, these speakers carry a fairly high IPX5 waterproof rating. Combine this with the consistent sound quality, and you've got a perfect candidate for a sauna speaker.
When it comes to Bluetooth, these speakers offer both wireless and analog connections through a 3.5mm jack. There is also an additionally wired control panel installed inside your sauna to make it, so you don't need to bring your smartphone in.
Turtlebox Bluetooth Speaker
Now, if you are looking for something a bit more portable, you've got a few options for Bluetooth speakers. Sure, there are plenty of Bluetooth speakers on the market, but to find one that can stand up against the conditions of a sauna is not as easy.
Lucky for you, we have done the heavy lifting and found a few products that can stand up against the heat and humidity. Keep in mind that companies don't design these products with saunas in mind. That means that you might face failure somewhere down the line. This is true for any product not rated for use in a sauna, even the marine speakers.
If you are on the lookout for a durable and portable speaker option with Bluetooth, check out the Turtlebox (on Amazon). This rugged loudspeaker boasts an IP67 rating as well as 120dbs loudness. It's great for outdoor use and can stand up to a lot.
Bose Soundlink Micro
While not as rugged on the outside as the Turtlebox, Bose has come up with a fairly durable product in their Soundlink Micro Bluetooth speaker (on Amazon). Bose has always produced products with crisp, clean, and balanced sound. This speaker, despite its size, packs a wallop. It's excellent for outdoor days and time spent at home.
If you want a more conventional option, then this is the perfect speaker for you. It even has a built-in microphone for you to take calls or use voice commands. When it comes to waterproofing, this little speaker comes with an IPX7 rating. It's easily portable and can last up to six hours on a charge.
While this speaker is fairly durable, it's worth noting that it doesn't stand up to heat well. That doesn't mean you can't use it in your sauna, but keep in toward the ground. This is where the air is the coolest, and it will give the best chance to keep the speaker working for longer.