When it comes to adding audio to your sauna, you need to be careful about what speakers you choose. Not every speaker has what it takes to stand up to such a harsh environment. The heat and humidity can easily kill a conventional speaker as we've explained before. Not only are they not made to deal with the heat, but often the paper cone that transmits the sound is made of paper that gets wet easily. There are some good options, though.
Saunas require specialized speakers that can withstand the high heat and stem vapors. The best in-ceiling speakers for use in a sauna are:
– Superior Sauna and Steam 6" Speakers
– VIDALUX 60W Temperature Resistant
– AUDAC Flush Mounted Speaker
– Pyle Marine Waterproof Speaker
Fortunately, you're not alone in your search for the perfect speaker. We've compiled a list of several companies that are producing quality sauna speakers. Some come from sauna-specific companies, and others from the marine industry. These choices have the waterproofing and heatproofing you will need for a functioning sauna audio system. Read on to discover which in-ceiling speakers are the best for you.
Superior Sauna and Steam 6″ Speakers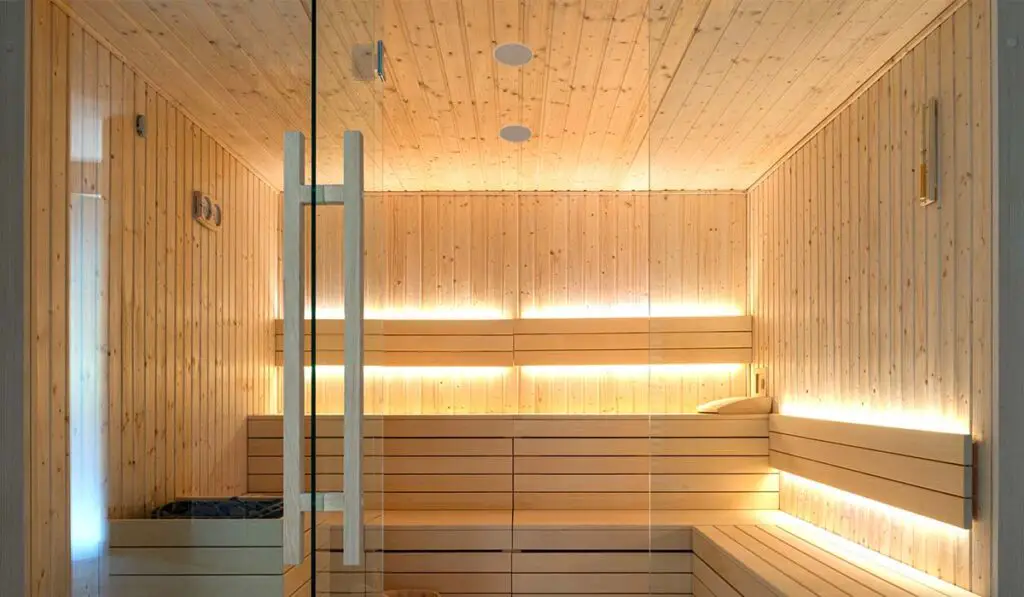 If you are looking for high-quality sauna speakers, the team at Superior Sauna and Steam has your back. They have constantly put out great products that can stand up to the wear and tear of a sauna, and their Round 6" In-Ceiling Speakers are no exception.
The speakers come in a pair so you are getting a set. They also come in either black or white so that they can fit into any decor or style. When it comes to protection, these speakers are perfect for a sauna user's needs. They come equipped with a two-way coaxial setup for easy installation.
Also, they can easily hook up to a stereo on the outside of your sauna. The 6" cone is rugged and waterproof due to being made of polypropylene. Combine this with the Teflon coated wires and plastic grills, and you can see why these speakers are great for sauna use.
Some of the other major features of these speakers include ultra-low magnetic field speakers, an integrated grill that makes for painless installation, It comes with stainless steel mounting equipment and a 2-year warranty.
PYLE Marine Waterproof Speakers
This speaker may not come from a reputable sauna brand, but it does come from a popular marine speaker company. Pyle has long been a trusted name in marine audio. Their Marine Waterproof Speakers (on Amazon) are another product in a long line of quality offerings.
These slim speakers come with LED lights installed and a slim design. They are waterproof and come packed with 240 watts of power in the pair. While Pyle imagines you use these speakers out on a boat or an outdoor vehicle like an ATV, they can make a decent substitute if you can't get a hold of sauna-specific speakers. 
While they may not last as long as other speakers, they certainly can stand up to the humidity of a sauna. Some people report that as long as they place them closer to the ground, they can get a lot of use out of marine speakers. These speakers feature waterproofing, LED background lighting, low profile design, and easy installation.
VIDALUX 60W Speakers
VIDALUX is another company in the market making high-quality speakers for saunas. Their luxury ceiling speakers offer fabulous sound quality and a rugged design. They make it so you can enjoy your daily sauna session in style with crisp and clear audio.
Their speakers come with a frameless design, so they are easy to fit into any sauna or steam room. They also feature something called an acoustic boosting shell. This is just a fancy way of saying they help bring out the lower-end of the music for better listening.
VIDALUX has thought of everything when it comes to usability. Not only do they come equipped with special "dog ear" flaps to help installation, but the 1" tweeter helps deliver high-quality sound throughout the entire room. These speakers feature a frameless and slim design, improved Bluetooth connectivity, and Water ingress proof.
AUDAC Flush Mounted Speakers
AUDAC is a European brand that produces some luxury sauna products. Their take on the sauna speaker features a subtle flush design. They have specially designed their speaker to withstand the high temperatures of the sauna.
They come in an off-white color, which can easily blend with the traditional wood interior of a sauna. The speakers feature an aluminum plated front grill that gives this speaker a modern and attractive feel. You can easily paint this front portion to match your sauna's aesthetic.
The 2-way loudspeaker produces sound with 20 watts of audio power. Coming from the 5" cone driver and 1" tweeter, you can expect some crisp and clear sound. AUDAC flush speakers offer heat resistance up to 212°F, a polypropylene cone for better water resistance, and a paintable aluminum front grill.
How to Find Good Sauna Speakers
The problem people often face when trying to find sauna speakers isn't the water but the heat. It can reach almost 200°F in your sauna. Even the best outdoor speakers aren't rated for this type of extreme heat, and you have to be especially careful if you use more delicate electronics like Apple Watches (our discussion on this).
Heat can cause some severe issues for your speakers. It can easily expand and contract the metal in the unit between uses. This can wear down connections over time, leading to failures. In some extreme situations, you can even experience a short, which could cause more serious issues.
When it comes to water, you aren't dealing with rain or waves. In a sauna, you are mostly dealing with humidity and steam. While there is a standard in the International Protection Rating, this is less about water entering a product through direct contact. 
When it comes to saunas, the water will most likely be in the form of steam molecules. Even the best waterproofing can fall to this type of moisture. This is why you really need to source quality sauna speakers from trusted brands.
Sauna Speakers That Have Bluetooth Connectivity
If you are looking for Bluetooth connectivity, you are in luck. Not only are their speakers that come with this already as a feature, but you can also easily install a receiver that connects to your speakers. A Bluetooth receiver, like this Esinkin Wireless Receiver (on Amazon), can easily be installed on any system.
The trick is going to be finding a place to staff the box that is close enough for you to connect to but still be out of your sauna. Another thing to consider with Bluetooth is how you are going to get the music, like with a Smart Phone or some other device.
You can opt to use your smartphone, but using it in the sauna can cause some issues. Consider a Bluetooth system that includes a remote. Products like the Bluecube from their website aim to solve this issue and come with a remote you can take into your sauna to control your tunes.
Tips for Installing Sauna Speakers
When it comes to installing your new speakers there are some things to think about. First, you want to make sure your speakers are going to fit. Since sauna walls are usually insulated you may have some trouble fitting larger speakers. Make sure to check for minimum depth to see how deep your speakers need to be and cross-reference with your sauna.
Another thing you should consider with any speaker project is wiring. Wherever your receiver or amp is, you will need to run wires to that point. If you plan on adding multiple speakers this can get awkward. Much like the speakers themselves, you should try and source wires that will stand up against the heat and humidity.
While they might not face the kind of exposure that the speaker will, you should still find high-quality and rugged speaker wire. Speaker wire that is marine-grade, like this one from Amazon, is excellent for use in a sauna.
Just make sure you have enough to run the wires to your receiver. This raises another issue: you can't just buy speakers; you need a source. If you don't already have a receiver or amp this might mean purchasing one. This can easily jack up the cost of your new sauna audio system.