Going to your local health club or spa to visit a sauna can be an enjoyable experience. You're able to enjoy the detoxifying heat the sauna provides while benefiting from the other amenities the health club or spa has to offer. But what if you could do it all from your home? Don't have the floor space available in your home? Well, why not buy an outdoor sauna like the Finnish have been doing for decades?
Outdoor saunas are just as beneficial to your health as indoor ones. They add an activity to your backyard and give it more character. Additionally, an outdoor room can be made larger to fit more people. Outdoor saunas are more social; you'll be able to share them with up to 4 to 8 people.
Outdoor saunas can be purchased pre-made, or you can build and design your own with many different types of woods as well which we've discussed before. There are pros and cons to each method. Buying an outdoor sauna is less work but more expensive, and you have to pick from a list of options. Building one is lower cost but takes more time. However, building an outdoor sauna provides you the freedom to make it exactly how you want it.
What's the Difference Between Indoor and Outdoor Saunas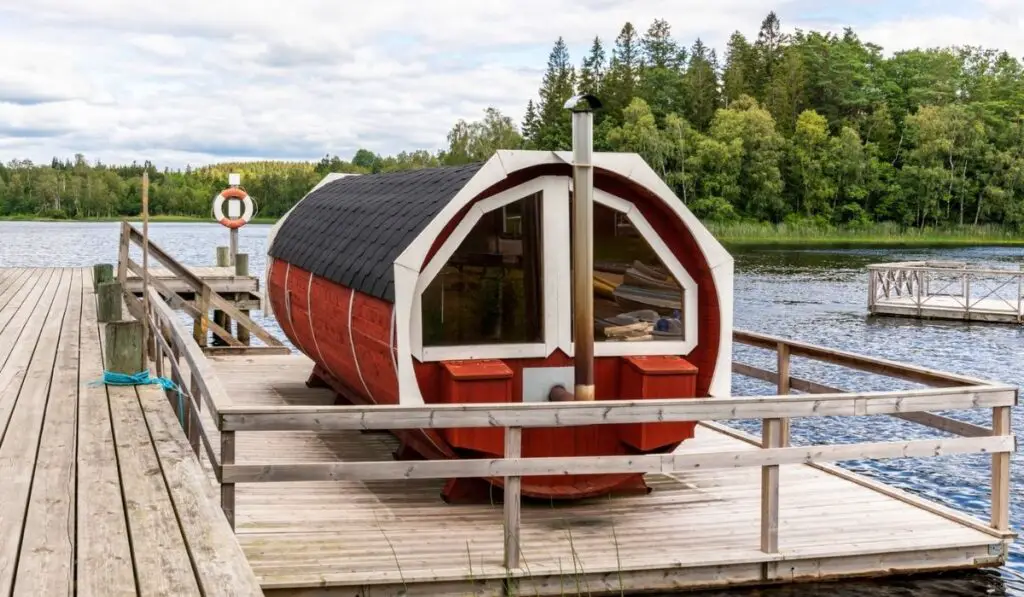 The main difference between indoor and outdoor saunas is their location – you probably guessed that! Indoor saunas are restricted in their size by the space constraints of the room or building they are being installed in. For example, if a homeowner wants an indoor sauna in their basement and has very minimal space, they have to install a relatively small sauna. 
On the other hand, let's say the same homeowner has a 1 acre back yard. They would have significantly more space to build or buy a larger outdoor sauna! Even if they only had 0.25 acres, that is still considerably more empty floor space than in most people's homes. Therefore, outdoor saunas tend to be larger, fitting up to 8 guests and sometimes more. However, they can be small too. 
From an overall cost perspective, indoor saunas are less pricey. The reason is not only that they tend to be smaller but also because they are easier to install/construct and have fewer building materials. Outdoor saunas cost more than indoor saunas because they are larger and they use more materials. Outdoor saunas need roofs, exterior walls, floors, insulation, and additional materials that are not required with indoor saunas. 
Indoor saunas can be the more convenient of the two – since you don't have to go outside to get to the sauna. Visiting your outdoor sauna in the winter months can give you quite the chill! However, outdoor saunas are great if you want to partake in hot/cold therapy where you intermix extreme cold in between sauna sessions.
Before you take up your extra floor space with an indoor sauna, consider all the great benefits of an outdoor sauna first, moreover, it would be a wise move to look into the differences between the other types of saunas and steam rooms via our guide that way you're truly informed.
How Much Does an Outdoor Sauna Cost?
Outdoor sauna kits cost between $1,900 to $7,500 on average. If you build your own sauna from scratch, you might save a few bucks as the average cost ranges from $2,800 to $6,500. The price of the outdoor sauna will vary by the size, quality of materials, and extra work that needs to be done (like a foundation or new electrical wiring).
Outdoor sauna costs may seem high, but considering that it has to be weather and outdoor-rated, the prices make sense. Because the outdoor sauna will be a freestanding structure, you shouldn't cheap out on the structural plan. Lastly, if you prefer to experience saunas outdoors but you're more budget-minded, a portable sauna can be used outdoors and is a great, cheaper alternative.
How Much Does an Indoor Sauna Cost?
For comparison purposes, indoor saunas cost between $3,000 to $6,000 for labor, installation, and materials for a 2-4 person indoor unit. For larger indoor saunas, like a 5-7 person one, the cost ranges between $5,000 to $9,000 on average. 
The Best Outdoor Sauna Options
If you're considering putting an outdoor sauna on your property, you'll want to make sure you do it right. If a DIY sauna is your fancy, then you'll have to design, source materials, and build your own outdoor sauna yourself.

However, if you want to make your life easier and your outdoor sauna dream simpler to develop, you should consider an outdoor sauna kit. Outdoor kits are a great way to get an outside sauna without going through a painstaking construction process. We'll take a look at a few barrel sauna kits and a portable sauna too. 
One of the top sauna kits is this 6 foot Canadian Outdoor Pine 4 Person Barrel Sauna (on Amazon). It is 6×6 feet, seats up to 4 people, and comes with everything you need to get it up and running. It is made from the best Canadian Pine at 1-⅜" thick to provide excellent insulation and strength. It's flat-packed, which means you'll have to assemble it. However, the setup is relatively simple. 
Another great option is this Barrel Sauna Kit with a Harvia M3 Wood Burning Heater (on Amazon). It fits in a 6×6' footprint and is made from beautiful 1-⅝" Nordic Spruce. It comes fully equipped with seats, doors, windows, and a great quality wood burner.
However, it does require assembly, which is easy but takes up a lot of time. If you're budget-conscious or you can't afford a whole outdoor sauna just yet, you can use a portable sauna like this Muccau Portable Steam Suana (on Amazon) outdoors.
All you need is an outdoor outlet and an extension cord to enjoy this portable sauna outside. It's effortless to use, and you're able to sit down while you're in it. A nice feature of this portable sauna is the armholes that allow you to read a book or browse the web while enjoying the sauna. 
Should Your Outdoor Sauna be Infrared or Steam?
Your outdoor sauna can be either infrared, steam, or a traditional-style sauna. It doesn't matter much, but it is entirely up to you. However, if you would like to make installation quick and easy, go with an infrared sauna. With infrared saunas, you don't have to manage to get water to the sauna from the house or by installing plumbing. With infrared, all you need is electrical wiring. 
Infrared and traditional saunas tend to be lower costs than outdoor steam rooms. Steam rooms require more expensive insulation, water pumps, steam generators, and other costly components. Additionally, you'll have to install drainage and run a water supply line to an outdoor steam room too. 
Does an Outdoor Sauna Add Value to Your Home?
Outdoor saunas may add value to your home, but typically only what you pay for the outdoor sauna. If you plan on selling your house in the future, a potential buyer may not want a sauna and wouldn't be willing to pay extra for it.
On the flip side, there may be buyers who would love a sauna in their home and might make a larger offer in a competitive real estate market. Since all local real estate markets are different, it is best to talk with a local appraiser to determine if an outdoor sauna will add or take away value from your home.